COCONUT CASHEW - BAR
00018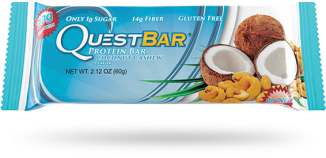 Whisk your taste buds away on a tropical escape with every bite of the Coconut Cashew Quest Bar! Packing 20g of protein with 4g net carbs*, this one's basically clean snacking paradise.
*22g Carbs – 14g Fiber – 4g Erythritol = 4g Net Carbs

Can be used as snack or meal replacement.