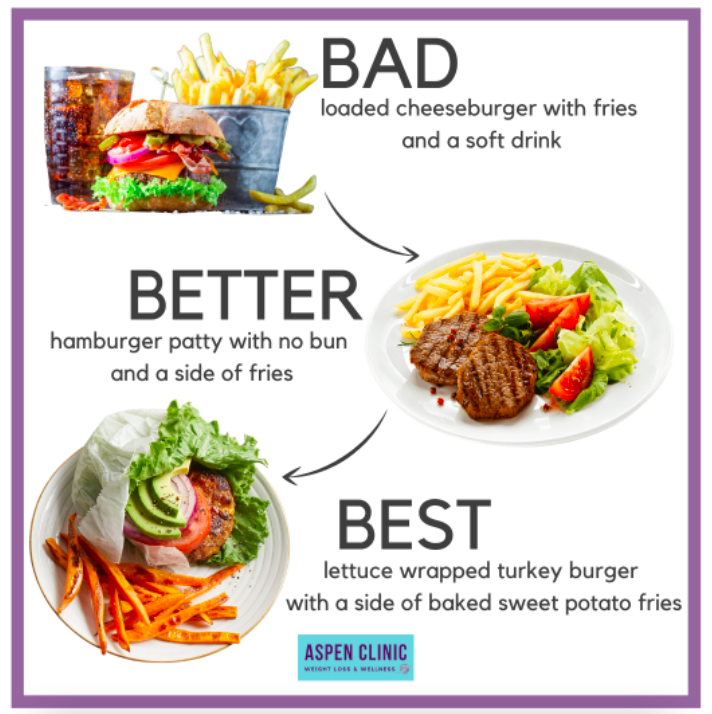 There is no denying that burgers are the food of the summer, but this American classic is anything but healthy. But, you don't have to deprive yourself of burgers completely! Here are a few ways to make a burger healthier, and in some ways, even tastier! 
Skip The Bun
Instead of a bun, switch out those carbs for a lettuce wrap or another veggie alternative! Lettuce-wrapped burgers are a healthy, low-carb, and gluten-free answer to all your indulgent burger cravings. Load it up or keep it simple, either way, they're a fun fresh twist on an old-fashioned hamburger! 
Turkey Over Beef
Ground beef and turkey are both nutritious meats that provide protein, fat, and a variety of vitamins and minerals. Turkey is generally lower in saturated fat than beef. As such, it may be a better choice for heart health. Fat-free turkey is also the lowest calorie option if you're interested in weight loss!
Swap Out Fries
Fries are a burger's best friend, but they are no friend to anyone trying to focus on their health. Sweet potato fries are slightly higher in calories and carbs but also more nutrient-dense than French fries. The greatest nutrient difference is that French fries have no vitamin A, while sweet potato fries are high in this nutrient. Vitamin A is important for your vision and immune system. Skip the carbs altogether if possible and pair your burger with a side salad! 
It would also be a good idea to skip traditional condiments and cheese. Check out our grocery guides to see which products are Aspen Clinic approved!
Join The Aspen Clinic – We Have 9 Locations in Louisiana
Looking for more nutritional support? Join us at the Aspen Clinic! The Aspen Clinic program is based on lifestyle changes, not temporary dieting. In summary, our program is designed to increase your metabolism and help you develop a new set of eating and activity habits. We will individualize your program according to your daily caloric needs to ensure that you are losing fat and avoiding the loss of lean muscle mass.
Visit any of our Aspen Clinic locations across Louisiana, Baton Rouge, Covington, Hammond, Harvey, Houma, Lafayette, Metairie, Prairieville, and Slidell, or schedule an appointment today to get started!
You can also visit our online store, we carry all the weight loss essentials including water bottles, vitamins / supplements, protein powders, and more!