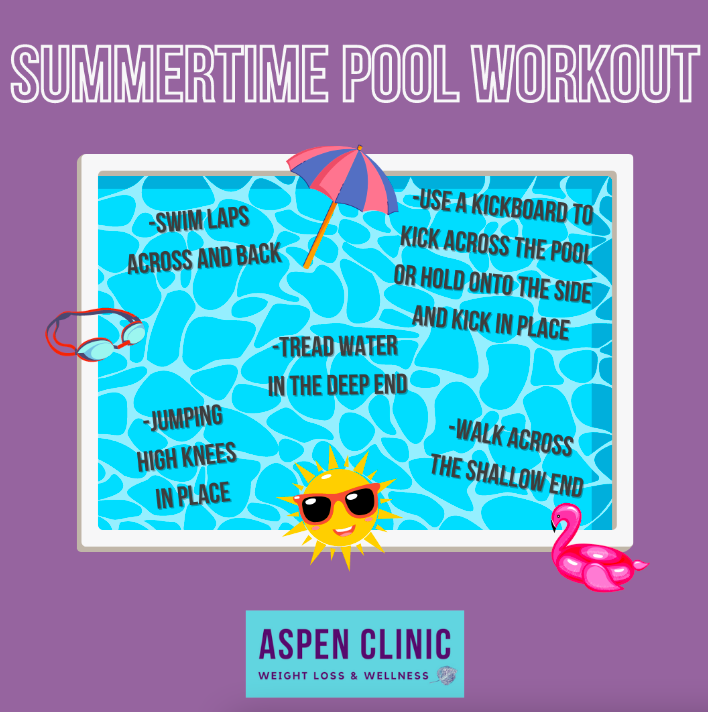 We are all painfully aware of the heat in Louisiana! Trying to get a workout in during the summer can be daunting. If you are lucky enough to find yourself lying next to a pool this summer, take advantage of the water and get your body moving! Here are 5 pool exercises for weight loss from the Aspen Clinic of Louisiana.
Swim Laps
Swimming laps in the pool is an efficient way to burn calories. A 160-pound person burns approximately 423 calories an hour while swimming laps at a low or moderate pace. That same person may burn up to 715 calories an hour swimming at a more vigorous pace. Swimming laps can be a great way of reducing thigh fat and toning your legs. When you swim, all your muscles work. Experts say that certain swimming strokes can be extra beneficial for reducing thigh fat.
Kick Across The Pool
Use a kickboard to kick across the pool or hold onto the side and kick in place. Kicking with a kickboard or in streamline will elevate your heart rate and lift caloric burn! This is a great activity for glutes, quads, and hamstrings and helps perfect kicking technique to improve overall swimming while also targeting specific areas of the body. Start in the shallow end of the pool, holding the kickboard in front of the body with one hand on either side.
Tread Water Into Deep End
Simply treading water in a pool burns 11 calories per minute; that's the same as running six miles per hour! The key is in resistance. Water provides continuous resistance, engaging more muscles through a more extensive range of motion.
Jumping High Knees In Place
Pool high knees are calisthenics and cardiovascular exercise that primarily targets the quads and to a lesser degree also targets the groin and hip flexors. The only thing that you really need is the following: a pool!
Walk Across The Shallow End
Walking across the shallow end is a simple workout ideal for all skill levels and requires no equipment except a body of water. This low-impact workout is easy on the joints and is beneficial to your heart, lungs, abs, muscles, and circulation.
Bonus: Mermaid Workout
Get ready to feel like a beautiful, toned mermaid with this incredible TOTAL body workout! We designed your Mermaid Routine to target all the areas you want to tone up for summer, including your abs, obliques, thighs & arms. Oh YES!!
What You'll Need:
Kettlebell (or 10-15 lb. dumbbell)
A yoga mat
And some water!
Complete 10-20 repetitions of each move, 1-3 times. Remember to breather during each repetition and rest when needed. Click Here to learn more!
Join The Aspen Clinic – We Have 9 Locations in Louisiana
If you need a bit more guidance to help get started moving around, or you are just looking for some support along your wellness journey, join us! The Aspen Clinic program is based on lifestyle changes, not temporary dieting. In summary, our program is designed to increase your metabolism and help you develop a new set of eating and activity habits. We will individualize your program according to your daily caloric needs to ensure that you are losing fat and avoiding the loss of lean muscle mass.
Visit any of our Aspen Clinic locations across Louisiana, Baton Rouge, Covington, Hammond, Harvey, Houma, Lafayette, Metairie, Prairieville, and Slidell, or schedule an appointment today to get started!