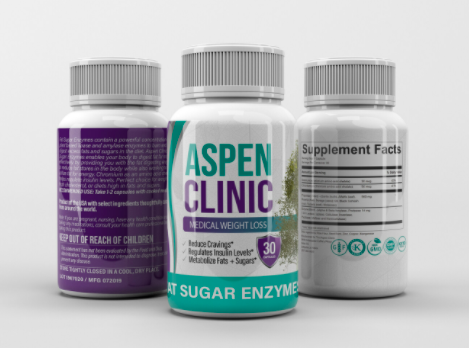 Having trouble saying no to all of those holiday sweets and treats?!  Try our Fat Sugar Enzymes to help cut cravings and help metabolize fat and sugars! Keep reading to learn more about our Fat Sugar Enzymes available for purchase at our Aspen Clinic store! 
Fat Sugar Enzymes
Fat Sugar Enzymes are a powerful supplement that helps burn and digest dietary fat. Unlike the potentially harmful "fat blockers" and other so-called fat burners on the market, "Fat/Sugar Enzymes" unique combination of proven ingredients not only reduces the fat stores, but works in harmony with the body to ensure that fat is utilized and converted to energy.
There is no question that the extra fat we carry will lead to severe penalties on our health. But did you know that "eating" fat is not really the problem? The real problem is that your body can't properly "digest" (break down) the fat you eat!
We typically take in more fat than we can digest or burn.
Fat Sugar Enzymes use the purest available source of lipase, which is the enzyme that digests fat and enables your body to digest fat far more effectively by providing you with the fat digesting enzymes normally found in raw fats..
Remember that it is not what you can "ingest" or eat, but what you can "digest" or absorb that really counts!
Join The Aspen Clinic – We Have 9 Locations in Louisiana
Looking for more help when it comes to curbing sugar cravings? Visit any of our Aspen Clinic locations across Louisiana, Baton Rouge, Covington, Hammond, Harvey, Houma, Lafayette, Metairie, Prairieville, and Slidell, or schedule an appointment today to get started!
The Aspen Clinic has helped many people lose weight by focusing on long-term positive lifestyle changes. Because there are many nutritional and health factors that accompany lifestyle changes and healthy weight loss for women and men, we find it best to have a qualified physician review our client's personal information and analyze their nutritional needs.