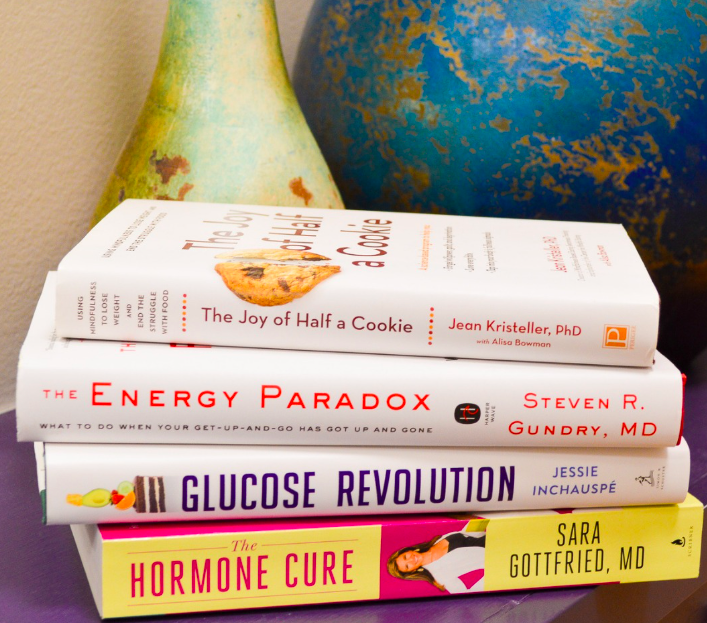 Are you looking for some food for thought as you lounge in the sun this summer? Nothing pairs better with relaxing than a good book! Ditch the romance novel and read something that your future self will thank you for. Here are a few book recommendations from the Aspen Clinic of Louisiana!
The Joy of Half a Cookie by Jean Kristeller, PhD
Anyone who's tried to lose weight through sheer willpower knows how difficult, if not impossible, it can be. In this practical and paradigm-shifting book, Dr. Jean Kristeller presents a new alternative–a program for weight loss based on her successful Mindfulness-Based Eating Awareness Training Program. Instead of frustration, depravation, backsliding, guilt, and a lack of results, The Joy of Half a Cookie provides simple, proven ways to lose weight and keep it off, using what we now know about the power of the mind.
The Energy Paradox by Steven R. Gundry, MD
In The Energy Paradox, Dr. Gundry expands upon his previous discussions of gut, microbiome, and mitochondrial health, linking immune malfunction to the mental and physical symptoms of fatigue—including exhaustion, brain fog, depression, anxiety, and low metabolism.
As Dr. Gundry explains, feeling tired, moody, and zapped of energy is not normal, no matter your workload or age. Fatigue is an SOS flare from the body, one that is intended to alert us that something is wrong. In his clinical work, Dr. Gundry has found that his patients who complain of feeling sick and tired all the time almost always have something in common: the inflammation markers of a leaky gut.
Glucose Revolution by Jesse Inchauspe
Both entertaining, informative, and packed with the latest scientific data, this book presents a new way to think about better health. Glucose Revolution is chock-full of tips that can drastically and immediately improve your life, whatever your dietary preferences. Improve all areas of your health from your weight, sleep, cravings, mood, energy, skin, and even slow down aging, with easy-to-implement, science-based hacks to manage your blood sugar levels while still eating the foods you love.
The Hormone Cure by Sara Gottfried, MD
The New York Times bestselling guide to hormone balance helps women of all ages achieve increased energy, resilience, vitality, and sensuality through science-based natural therapies. All too often women are told that feeling moody, asexual, tapped out, dried up, stressed out, and sleep deprived is just a part of being female. Or they're led to believe that the answer can be found only at the bottom of a bottle of prescription pills. Dr. Sara Gottfried, a Harvard-educated physician and nationally recognized, board-certified gynecologist, refuses to accept that being a woman means feeling overwhelmed or that popping pills is the new normal. In The Hormone Cure, she shares the unique hormone-balancing program that she has used to help thousands of women reclaim wellness, verve, and optimal health.
Food: What The Heck Should I Eat? By Mark Hyman, MD
In Food: What the Heck Should I Eat? — Dr. Hyman's most comprehensive book yet — he takes a close look at every food group and explains what we've gotten wrong, revealing which foods nurture our health and which pose a threat. From grains to legumes, meat to dairy, fats to artificial sweeteners, and beyond, Dr. Hyman debunks misconceptions and breaks down the fascinating science in his signature accessible style.
He also explains food's role as powerful medicine capable of reversing chronic disease and shows how our food system and policies impact the environment, the economy, social justice, and personal health, painting a holistic picture of growing, cooking, and eating food in ways that nourish our bodies and the earth while creating a healthy society. With myth-busting insights, easy-to-understand science, and delicious, wholesome recipes, Food: What the Heck Should I Eat? is a no-nonsense guide to achieving optimal weight and lifelong health.
Join The Aspen Clinic – We Have 9 Locations in Louisiana
Looking for more wellness recommendations? The Aspen Clinic program is based on lifestyle changes, not temporary dieting. In summary, our program is designed to increase your metabolism and help you develop a new set of eating and activity habits. We will individualize your program according to your daily caloric needs to ensure that you are losing fat and avoiding the loss of lean muscle mass.
Visit any of our Aspen Clinic locations across Louisiana, Baton Rouge, Covington, Hammond, Harvey, Houma, Lafayette, Metairie, Prairieville, and Slidell, or schedule an appointment today to get started!
You can also visit our online store, we carry all the weight loss essentials including water bottles, vitamins / supplements, protein powders, and more!