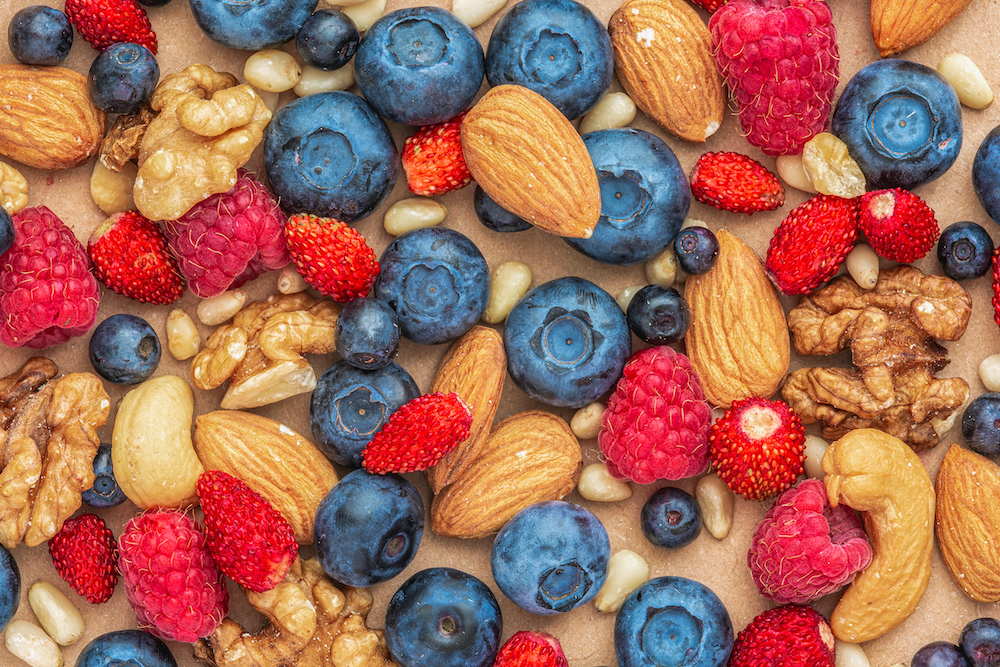 Summer is finally here! It's time for trips to the gulf, days at the pool, and picnics in the park. Here are a few healthy snack suggestions that are delicious and nutritious for everyone in your house, and easy to bring on the go this summer!
Berries & Unsalted Nuts
Berries are some of the healthiest foods you can eat. They're low in calories and high in fiber, vitamin C, and antioxidants. Many berries have been associated with being beneficial for heart health. These include lowering blood pressure and cholesterol while reducing oxidative stress! Unsalted nuts are counted as superfoods that contain antioxidant levels that help keep your body healthy. Nuts are rich in fiber, protein, healthy fats, vitamins, and minerals that also help lose weight and burn belly fat. Berries and unsalted nuts make the perfect pair!
Chomp Jerky Sticks
A great addition to any lunchbox is a Chomp Jerky stick! Chomp Jerky sticks have no added sugar, wheat, dairy, eggs, peanuts, tree nuts, soy, fish, or shellfish. These jerky sticks are completely clean and will keep the whole family satisfied and on track with their healthy lifestyle.
Apple Slices with Almond Butter
Apples are high in monounsaturated fats that are good for your heart, with lots of protein, vitamin E, and magnesium. Try pairing a dollop of almond butter with the high fiber and sweetness of an apple after your run — it's a sweet and savory treat and a nutritionally powerful way to refuel.
Raw Veggies & Tessemae Ranch
An old classic. Veggies and ranch are always a crowd pleaser, but we recommend switching your ranch for Tessemae Ranch! Raw veggies are rich in fiber and complex carbs, and Tessemae Ranch is organic, non-GMO, vegetarian, made with cage-free eggs, sugar-free, dairy-free, gluten-free, and keto friendly!
Thunderbird Bar
Shockingly good flavor without added sugar or anything fake. Thunderbird bars are superfoods packed with micronutrients. Perform your best with the nutrition that fuels you the right way! Nutrition by nature, packed with flavor and packaged for your on-the-go lifestyle.
Siete Chips with Wholly Guacamole
Siete uses avocado oil to make their chips, which is a healthier alternative to highly refined oils like canola and soybean oil. Wholly Guacamole is a source of healthy omega-3 fatty acids, it is high in fiber, and it contains folate, Vitamin K, and potassium!
For more recommendations for healthy snacks, or for some extra guidance at the grocery store, check out the Aspen Clinic's Grocery Guides.
Join The Aspen Clinic – We Have 9 Locations in Louisiana
The Aspen Clinic program is based on lifestyle changes, not temporary dieting. In summary, our program is designed to increase your metabolism and help you develop a new set of eating and activity habits. We will individualize your program according to your daily caloric needs to ensure that you are losing fat and avoiding the loss of lean muscle mass.
Visit any of our Aspen Clinic locations across Louisiana, Baton Rouge, Covington, Hammond, Harvey, Houma, Lafayette, Metairie, Prairieville, and Slidell, or schedule an appointment today to get started!
You can also visit our online store, we carry all the weight loss essentials including water bottles, vitamins / supplements, protein powders, and more!