In 2023, The Aspen Clinic is celebrating 35 years of helping people in Southern Louisiana achieve their goal to lose weight โ€" with the motivation and education they need to make simple lifestyle changes that will enhance their overall well-being and improve their quality of life.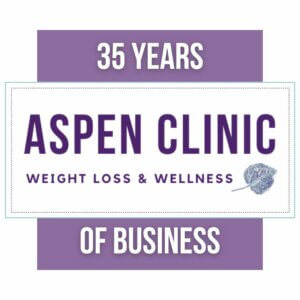 With locations in Baton Rouge, Prairieville, Lafayette, Harvey, Slidell, Hammond, Metairie, Houma, and Covington, the Aspen Clinic uses a weight-loss program based on proper nutrition, exercise, and behavior changes.
The program is individualized to meet your needs. Our targeted lifestyle changes are designed to increase your metabolism and help you develop a new set of eating and activity habits. There are no long-term contractual commitments, and you donโ€™t have to buy additional food and supplements.
Visit or call us today to see our professional, qualified physicians who can also prescribe appetite control medications to help you get started and reach your goals!
Let us help you live a longer, healthier life!