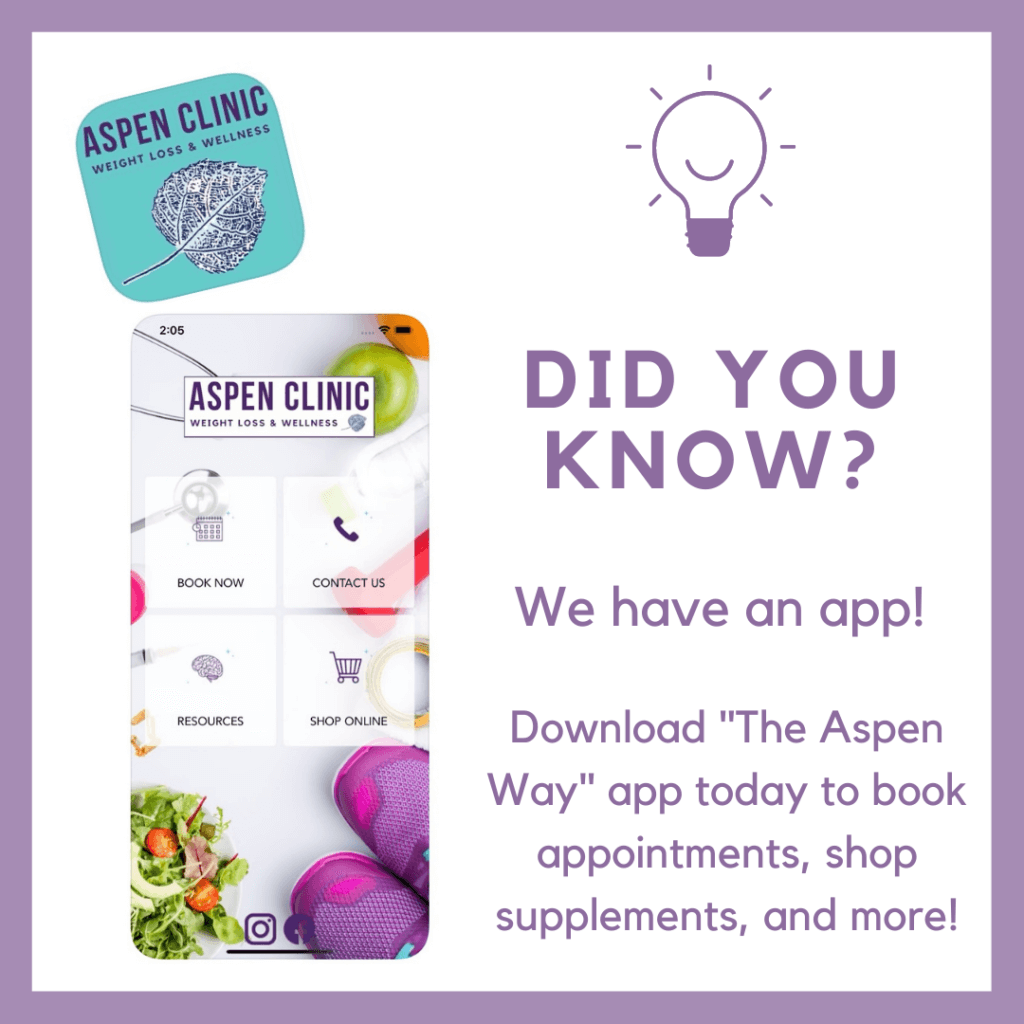 Did you know that the Aspen Clinic has an app? Download β€œThe Aspen Way" app to your smartphone today to easily book appointments, show supplements, access resources, and more! Keep reading to learn more about The Aspen Way app!
The Aspen Way
Download The Aspen Way to book an appointment with any of our locations from the convenience of your phone! Users can create a new patient appointment, existing patient appointment, or injection appointment right at the tip of your fingers!
In addition to our nutritional program, The Aspen Clinic also offers a huge line of all natural supplements that help to speed up the weight loss process and boost overall health, and now it is easier than ever to shop our supplements with The Aspen Way app! All of our supplements are completely natural and food-based, rather than made in a laboratory from synthetic chemical ingredients (90% of supplement companies use synthetic vitamins/supplements). All of the supplements can be taken in combination with each other, and also in combination with any type of medication. All of our supplement ingredients can be found in a garden, making them perfectly recognizable and usable to the body.
Looking for easy access to our resources? Now you can take them wherever you go with the help of The Aspen Way! Take advantage of all that The Aspen Way has to offer and download it to your smartphone today!
Join The Aspen Clinic – We Have 9 Locations in Louisiana
The Aspen Clinic program is based on lifestyle changes, not temporary dieting, so even if you are not worried about weight loss , we would still love to offer you support! In summary, our program is designed to increase your metabolism and help you develop a new set of eating and activity habits. We will individualize your program according to your daily caloric needs to ensure that you are losing fat and avoiding the loss of lean muscle mass.
Book an appointment on the app at any of our Aspen Clinic locations across Louisiana, Baton Rouge, Covington, Hammond, Harvey, Houma, Lafayette, Metairie, Prairieville, and Slidell, or schedule an appointment today to get started.