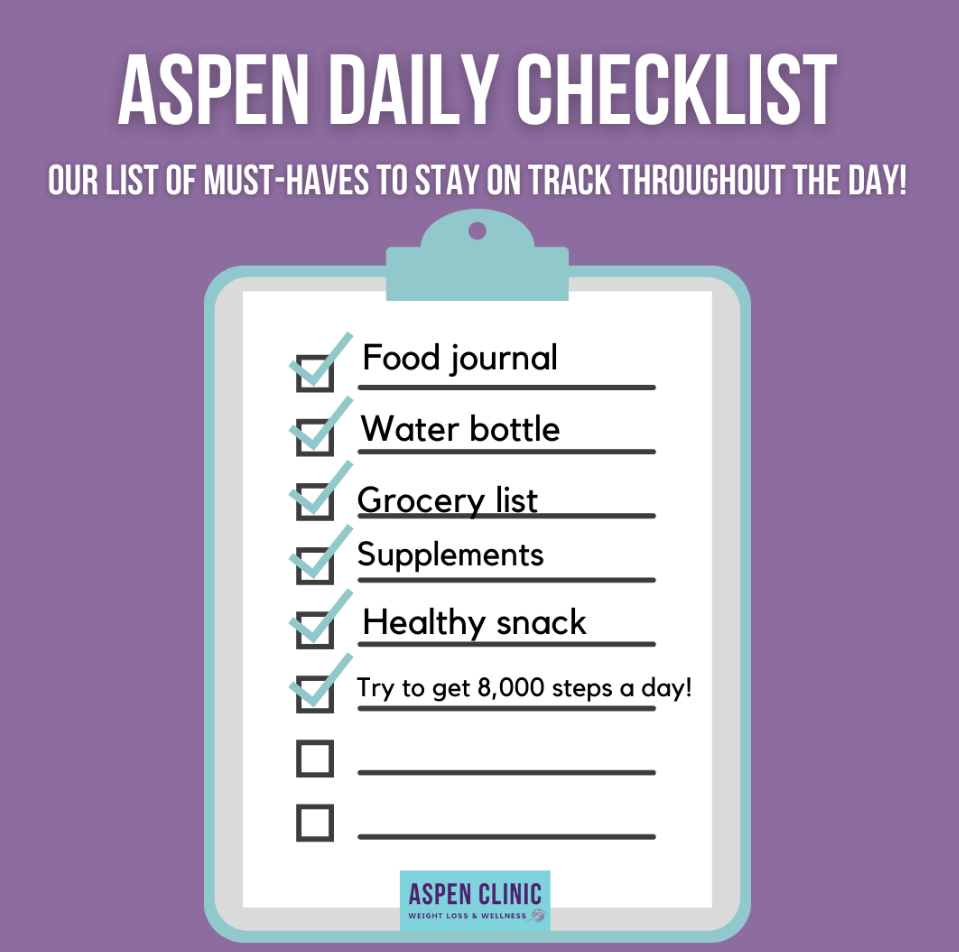 It is not uncommon to lose motivation or patience along the span of your weight loss journey. Maybe you're not seeing results as quickly as you hoped or the number on the scale has been the same for a while. Don't let that stop you from continuing your journey! Here are a few tips from the Aspen Clinic to help you take weight loss day by day, and if you stick to them, eventually you will reach your goal! 
Food Journal
Science has proven that those who use a food diary when trying to lose weight see better results than those who do not. Our food journals are only $1 – and are exactly what you need to help monitor your daily intake! Inside you will find:
Personal Weight Chart
Daily logs for:

Breakfast, Lunch, Snack, Dinner
Calories, Fat Grams, Carbohydrates, Protein
Water Intake
Supplement Intake
Exercise Activity
Sleep
Mood
Body Composition Results Tracker (inside front cover of food journal)
Goals for Month: weight, fat %, nutrient intake, personal goals, activity goals, nutrition goals (inside back cover of food journal)
Water Bottle
The more water you drink, the more weight you will lose! Keeping a water bottle with you at all times makes you a lot more likely to reach your daily water requirement! According to Everyday Health, Drinking water is important during weight loss because it provides hydration without unwanted calories. Drinking non-caloric fluids like water before or with a meal can help a dieter feel full sooner. Keep a water bottle on you at all times!
Our "Patient Essentials" come included in our Platinum, Gold, Silver, or Bronze packages to provide everything you need to get started! You can also find each item in our online store.
Grocery List
Walking into the grocery store without a list (and on an empty stomach) can be detrimental to your progress when it comes to weight loss. Not knowing what to put on your grocery list can be just as damaging, but The Aspen Clinic has developed Grocery Guides to help you out! We have come up with incredibly detailed guides, including pictures, to take with you to Walmart, Target, Rouses, and Whole Foods to help determine which products are Aspen Clinic approved! We went down every aisle and sorted through every product including condiments, frozen foods, dressings, desserts, and even alcohol! Join the Aspen Clinic today for access to our Grocery Guides.
Supplements
Once you have learned which supplements will aid you on your weight loss journey, it is important to stay on top of them and take them every day! Keeping a constant flow of supplements going into your body will help maintain balance and rid the body of anything delaying weight loss.
Healthy Snack
Did you know that snacking has the potential to help you lose weight? When you snack during the day, it prevents you from getting ravenously hungry. You're more likely to grab a healthier snack than whatever sugary treat is closest. You're also less likely to overeat at your main meals, which saves calories. Snacks like berries and unsalted nuts, Chomp jerky sticks, apple slices and almond butter, raw veggies and Tessemae ranch, Thunderbird bars, and Siete chips with Wholly Guacamole are just a few of the snacks that the Aspen Clinic recommends.
8,000 Steps A Day
Setting a goal of 8,000 steps a day will not only give you something to work toward, but will also help promote movement throughout the day. Increasing physical activity such as your step count has the power to increase your lifespan by reducing the risk of developing chronic illnesses such as dementia, and certain cancers. In some cases, it helps improve health conditions such as type 2 diabetes.
Create a daily checklist for yourself and check these off as the day goes on. This is such an easy way to keep yourself on track while setting realistic daily goals.
Join The Aspen Clinic – We Have 9 Locations in Louisiana
The Aspen Clinic program is based on lifestyle changes, not temporary dieting. In summary, our program is designed to increase your metabolism and help you develop a new set of eating and activity habits. We will individualize your program according to your daily caloric needs to ensure that you are losing fat and avoiding the loss of lean muscle mass.
Visit any of our Aspen Clinic locations across Louisiana, Baton Rouge, Covington, Hammond, Harvey, Houma, Lafayette, Metairie, Prairieville, and Slidell, or schedule an appointment today to get started!
You can also visit our online store, we carry all the weight loss essentials including water bottles, vitamins / supplements, protein powders, and more!