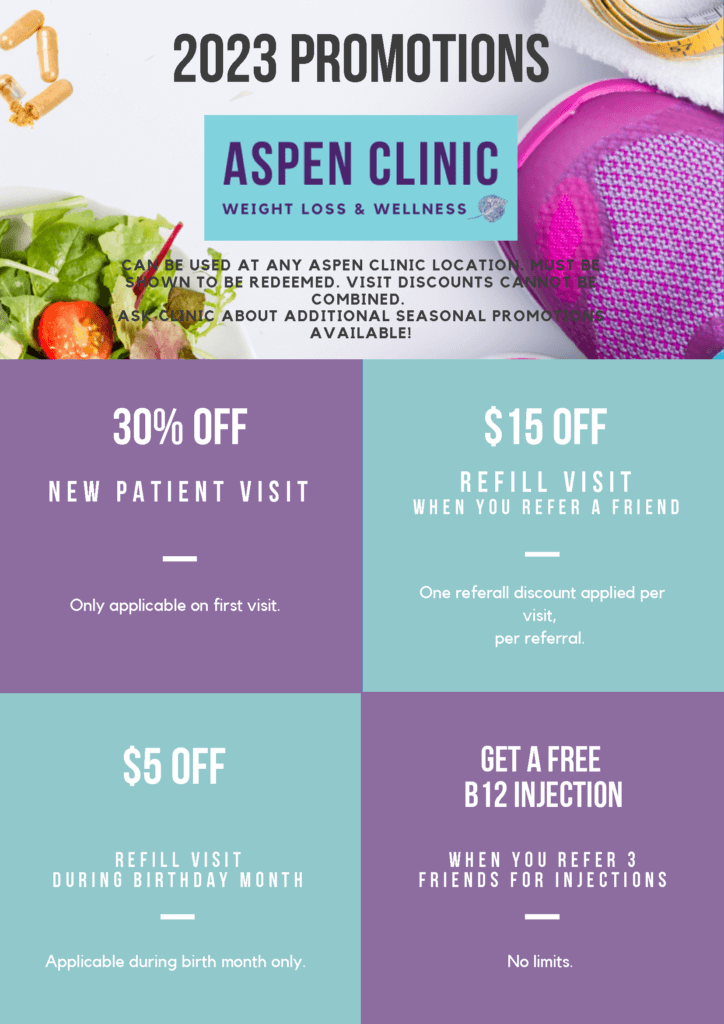 Weight Loss Coupons & Specials
At the Aspen Clinic, we truly value your business and try to make your weight loss journey towards a healthier life as easy and affordable as possible.
Take advantage of weight loss specials while they last. Our coupons and offers change regularly so be sure to check back often for ways to save your weight loss journey.
Coupons at the Aspen Clinic can be used at any of our 9 locations across Louisiana.
Join The Aspen Clinic – We Have 9 Locations in Louisiana
The Aspen Clinic weight loss program is based on lifestyle changes, not temporary dieting. In summary, our program is designed to increase your metabolism and help you develop a new set of eating and activity habits. We will individualize your program according to your daily caloric needs to ensure that you are losing fat and avoiding the loss of lean muscle mass.
Visit any of our Aspen Clinic locations across Louisiana, in Baton Rouge, Covington, Hammond, Harvey, Houma, Lafayette, Metairie, Prairieville, and Slidell, or schedule an appointment today to get started!
You can also visit our online store, we carry all the weight loss essentials including water bottles, vitamins / supplements, protein powders, and more!
Patient Loyalty Program
Save money when you come in consecutively for your visits! Ask for more information.
You can also view medication pricing discounts here.