With 35 years of experience in medical weight loss, the Aspen Clinic is proud to offer custom prescription formulations to its patients. We strive to provide medication options for every patient in order to aid in achieving their health and weight loss goals.
You may be wondering – "which medication is going to work best for ME?" – that is dependent on many factors! Your medical history, current medication use, lifestyle, tolerance, and goals will all be factors the physician takes into account when determining which medication would be best suited for YOU!
Medication Options
Most appetite suppressants on the market are of a stimulatory nature, but not everyone is suited for these medications. The Aspen Clinic is thrilled to now offer a wide variety of medications through our own compounding pharmacy to be able to treat every patient according to their specific needs.
Tirzepatide Injection
Tirzepatide, sold under the brand name Mounjaro® or Zepbound, is the newest injectable drug in a group of drugs called GLP-1 receptor agonists (or GLP-1 mimickers). It was FDA approved for the treatment of type 2 diabetes in May 2022 and is now approved for weight loss as of November 2023. In addition to it's effects on blood sugar and insulin levels, studies have shown that Mounjaro®(tirzepatide) provided substantial and sustained weight loss.
How Does it Work?
Decreases food intake ÔÇô reduces how much food is eaten
Increases insulin sensitivity ÔÇô helping the body release insulin when blood sugar is high
Enhances first and second phase insulin secretion ÔÇô helps the body remove excess sugar from the blood
Slows gastric emptying ÔÇô slows down how quickly food leaves the stomach (this will lessen over time)
Reduces glucagon levels ÔÇô stops the liver from making and releasing too much sugar
The specific tirzepatide dosage and regimen prescribed varies from patient to patient but tirzepatide injections are generally prescribed to administered subcutaneously once per week.
What is the difference between tirzepatide and semaglutide?
GLP-1 drugs (such as Mounjaro/ Zepbound┬«, Ozempic┬«, and WegovyÔäó) are a group of new drugs that mimic GLP-1, a hormone the body releases after a meal, signaling you are full and lowering appetite. However, Mounjaro┬«(tirzepatide) is unique because it attaches to two different receptors (GLP-1 and GIP), unlike previous GLP-1 analogs, which only attach to one.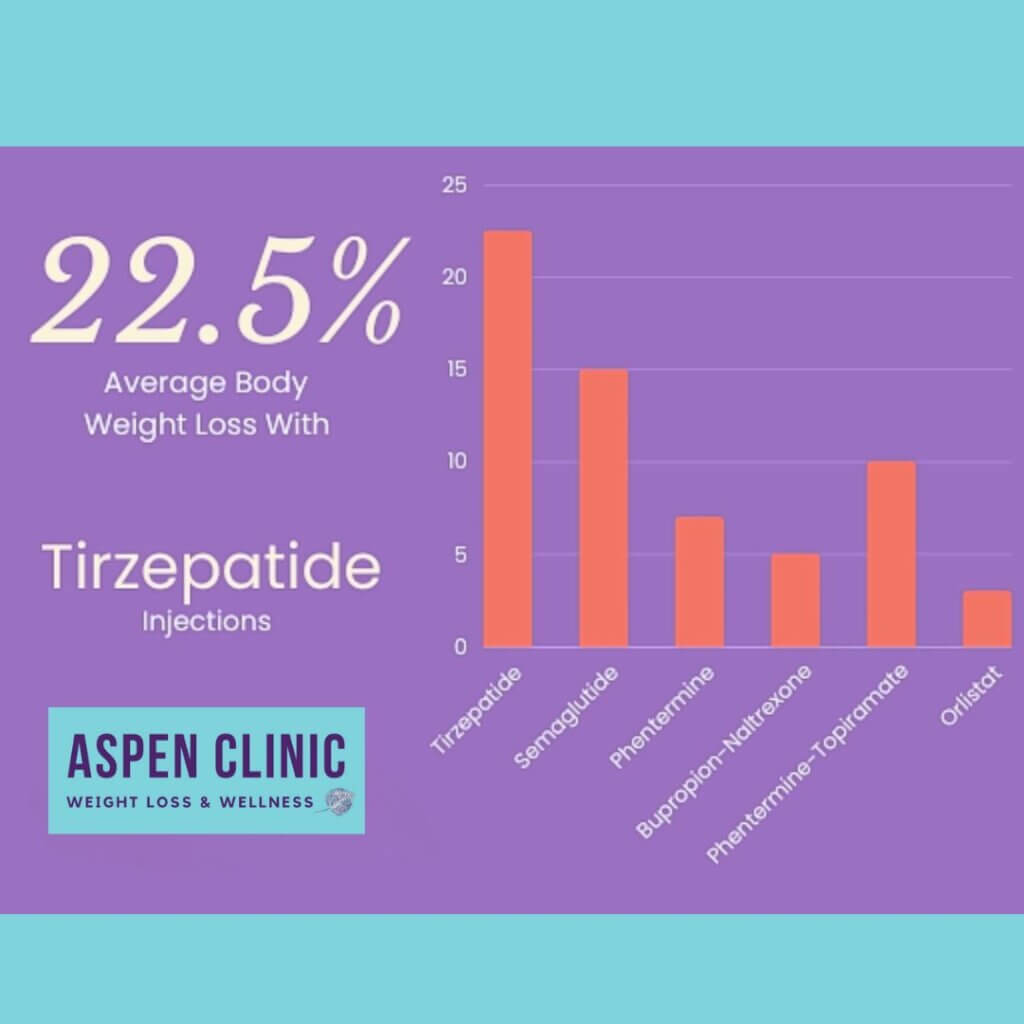 Due to it's unique dual activity, Mounjaro┬«(tirzepatide) has shown about 50% better weight loss than Ozempic┬« and WegovyÔäó.
Learn more about Tirzepatide (Mounjaro) here
How is Aspen ClinicÔÇÖs Tirzepatide Injection different than brand name Mounjaro?
Our Tirzepatide Injection contains the same active ingredient as Mounjaro making it the 'generic' version of the brand name medication. What differs is that our injection comes compounded in a vial to be drawn up into insulin syringes, whereas the brand name medication comes in a pre-loaded pen.
Aspen Clinic's tirzepatide is also much more cost effective than the brand name medication which can range from $500-1500 per month – versus ours which starts at only $229.
Semaglutide Injection
THE FDA APPROVED WEEKLY INJECTION FOR WEIGHT LOSS
Semaglutide + Cyanocobalamin (B12) is a once weekly glucagon-like peptide-1 (GLP-1) injection. This medication improves glycemic control and delays gastric emptying. This results in decreased appetite, reduction of food cravings, and improved control of eating. This peptide is well studied and is successful at decreasing HbA1c in those with diabetes and is associated with weight loss.
Semaglutide helps to keep your blood sugar low, to allow fat burning to happen while also slowing gastric emptying to aid in appetite control and keep you feeling fuller longer.
How is Aspen ClinicÔÇÖs Semaglutide Injection different from the other semaglutide RxÔÇÖs on the market like like Wegovy or Ozempic?
Our Semaglutide injection contains the same active ingredient as Wegovy or Ozempic making it the generic version of these brand name medications. What differs is that our injection also contains B12 to aid in preventing nausea. Our injection also comes compounded in a vial to be drawn up into insulin syringes, whereas the brand name medications come in a pre-loaded pen.
Read about how Semaglutide causes weight loss
Bella Capsules
The Bella Capsule: The Most Potent Weight Loss Rx on the Market
The Most Powerful Weight Loss Medications Combined in 1 Capsule
Bella is a complex, powerful and All-in-One scientifically compounded premium weight loss medication. Bella Capsules were specifically formulated with different medications that work in different ways to suppress appetite and reduce cravings.
WHAT IS IN BELLA?
Bella Capsules are a custom compounded proprietary blend of the main ingredients found in the two leading weight loss medications; Contrave and Qsymia. In addition B12 is added to help with energy and metabolism. This medication attacks weight loss by reducing appetite and cravings. Appetite suppression is achieved with Phentermine and Topiramate. Cravings are reduced by affecting the addictive pathways in the brain through a combination of Naltrexone and Bupropion. This medication is only available by a prescription and requires a thorough examination by the physician to see if you are a candidate.
HOW DOES BELLA WORK?
Bella is made up of four medications and concentrated Vitamin B12 that are all known for their ability to
support weight loss, together these medications are an All-in-One weight loss solution that can deliver powerful results! Bella comes in 3 formulations and depending on your sensitivity and medical history, the Doctor will evaluate you to determine which Bella would be best suited for your weight loss journey.
ÔÇó BELLA with Phentermine
ÔÇó BELLA with Caffeine and Oxytocin
ÔÇó BELLA with Metformin
LipoBurn Capsules
This medication is similar to Bella Capsules in that it reduces appetite and cravings but has less ingredients. It combines a higher dose of Phentermine with Naltrexone and caffeine to enhance energy levels more than Bella Capsules. For some people a big part of losing weight is also having the energy to exercise. Lipo Burn capsules increase energy while at the same time reducing appetite and cravings.
Standard Appetite Suppressants
Our standard appetite suppressants such as Phentermine, Diethylpropion, Benzphetamine, and Phendimetrazine can still be obtained at your local pharmacy. If desired, these medications can also be ordered from the compounding pharmacy but will incur shipping costs.
Certain Phentermine variations are only available through our compounding pharmacy.
Prescription Shipping
Bella, LipoBurn, Tirzepatide, and Semaglutide injections are unique formulations must be shipped to you from our compound pharmacy. Our office will order the medication for you and you can expect to receive it within 7-10 business days.
Medication Cost
Please ask the Aspen Clinic staff about pricing on medications as it varies per prescription. Standard medications that are sent in to your local pharmacy will be priced based on which pharmacy you use.
How do I get a Rx?
First step is making an appointment to meet with the doctor and discuss your options. These medications are only available by a prescription and requires a thorough examination by the physician to see if you are a candidate. There is no guarantee you will be prescribed a medication of your choice.
Keep in mind that not all patients are candidates for medication, and medication is not a necessary part of the Aspen Clinic program. For those who do not want medication as an aid to their journey, or are ineligible for medication due to other medical factors, our Non-Medical Program is the best option!
We can't wait to see you reach your weight loss goals!