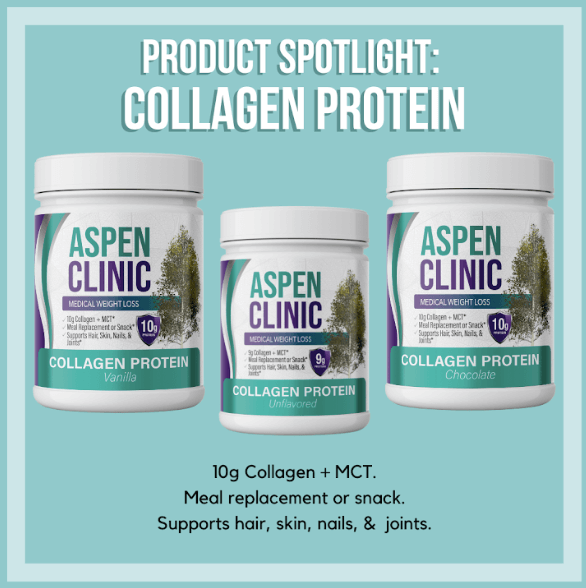 Collagen Protein Powder For Weight Loss and Wrinkles
September's product of the month rejuvenates your skin's appearance, helps smooth out cellulite, revitalizes dry and fragile hair, and refreshes brittle nails. What's more–this product is a multifaceted protein that repairs damaged cells, improves joint movement, and bolsters your body's ability to maintain a healthy gut. Keep reading to learn more about what collagen is and how it supports you during weight loss!
Try Collagen Protein Powder Today!
What is Collagen and Does it Aid in Weight Loss?
Collagen accounts for a significant amount of the overall protein in your body. It has a widely-shared reputation for keeping your skin elastic and full. It also actively combats arthritis and osteoporosis, supporting skeletal health and a healthy range of motion in your joints, ligaments, and tendons. As you get older, you lose much of your collagen, resulting in wrinkles, less flexibility, and other normal signs of aging. The Aspen Clinic goes a step further by combining Medium Chain Triglyceride (MCT) oil with our collagen-based protein powder. MCT oil is a unique type of healthy fat that can improve cognitive function, boost energy and endurance, and lower cholesterol and blood sugar levels. When collagen and MCT work together properly, they aid in weight loss.
How MCT Oil Enhances Collagen's Effects
The body rapidly absorbs both collagen and MCTs, quickly converting them into brain energy. This makes MCT oil an excellent addition to cardio and weight-lifting routines, enhancing endurance, and burning stomach fat. MCT oil can additionally work to control your appetite, making it much easier to stick to your weight loss plan and calorie deficit goals. MCT oil also increases good HDL cholesterol levels, lowers bad LDL, and aids in regulating blood sugar levels.
Try Collagen Protein Powder Today!
Try The Aspen Clinic's Collagen Protein Powder Today
To get the most out of the Aspen Clinic's Collagen-Based Protein Powder, simply add 1 or 2 scoops of a single 10-gram serving to any hot or cold beverage. To learn more about what this product can do, make an appointment at any of our easy-to-find Louisiana locations in Baton Rouge, Covington, Hammond, Harvey, Houma, Lafayette, Metairie, Prairieville, and Slidell!