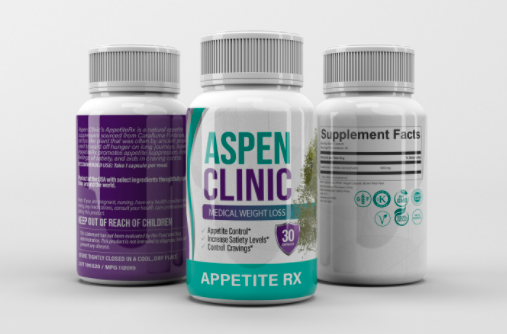 Here at the Aspen Clinic, we know how discouraging it can be when you are trying to lose weight while having lingering hunger trying to tempt you into falling off track. While it is very important to listen to your body and feed it when it is hungry, it can also be misleading during a transitional time in your weight loss journey. The Aspen Clinic offers an Appetite Suppressant supplement that can help curb your cravings!
AppetiteRX from The Aspen Clinic
How does the Aspen Clinic's appetite suppressant, AppetiteRX, work? Caralluma Fimbriata is a cactus-like plant with long-standing use as food in India. The cactus was often eaten by local tribes-people to ward off hunger while hunting in the forests. Its appetite suppressing qualities make it an ideal addition to modern diets. This formula contains the key constituents of the whole plant associated with appetite suppression and healthy weight management without chemically altering those constituents.
Caralluma Fimbriata has properties useful in weight management, the most significant being hunger control. This appetite suppression leaves this cactus extract uniquely positioned to support the body's weight management needs.
Appetite suppression: When adults exercise and burn more calories, they often need to guard against the hunger-induced consumption of extra calories. Caralluma Fimbriata helps suppress appetite, providing adults with the ability to maintain a consistent caloric intake.
A 12-week randomized, placebo-controlled study in Australia was conducted on 43 obese and overweight subjects. The study measured the effect of Caralluma Fimbriata on waist circumference and waist-to-hip ratio, among other factors. The study showed statistically significant results for waist circumference (positively correlated with a reduction in abdominal fat), waist-to-hip ratio decline, and significant decline in palatability of test meal and reduced sodium intake when combined with healthy diet and exercise. Citation: Astell, Katie J., et al. A pilot study investigating the effect of Caralluma Fimbriata extract on the risk factors of metabolic syndrome in overweight and obese subjects: a randomized controlled clinical trial.
Aspen Clinic's AppetiteRx is a natural appetite suppressant sourced from Caralluma Fimbriata, a cactus-like plant that promotes appetite suppression, increases feelings of satiety, and aids in craving control.
Learn More About Appetite Suppressant Supplements at The Aspen Clinic – We Have 9 Locations in Louisiana
Interested in learning more about our appetite suppressant supplement have any questions? Contact us today!
The Aspen Clinic program is based on lifestyle changes, not temporary dieting. In summary, our program is designed to increase your metabolism and help you develop a new set of eating and activity habits. We will individualize your program according to your daily caloric needs to ensure that you are losing fat and avoiding the loss of lean muscle mass.
Visit any of our Aspen Clinic locations across Louisiana, Baton Rouge, Covington, Hammond, Harvey, Houma, Lafayette, Metairie, Prairieville, and Slidell, or schedule an appointment today to get started!