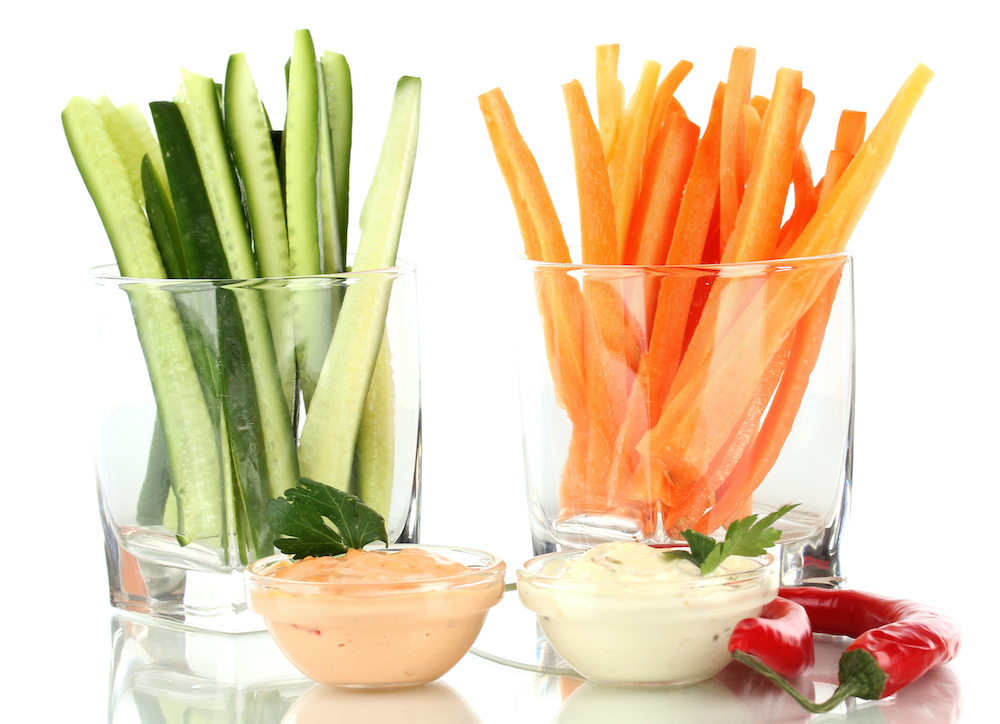 A healthy lifestyle is not a change you have to make alone. Why not involve the whole family? Here are a few healthy snack suggestions that are delicious and nutritious for everyone in your house!
That's It Bars
On the run? Grab a That's It fruit bar! That's It is dedicated to simple and easy ingredients made from real plant foods, and in some cases, organic dark chocolate. That's It uses natural, non-GMO fruit to make eating healthy snacks easy and stress-free. That's It fruit bars have 6 or fewer ingredients. No washing, cutting or peeling required. Delicious, safe, and easy!
Veggies & Primal Kitchen Ranch
An old classic. Veggies and ranch are always a crowd-pleaser, but we recommend switching your ranch for Primal Kitchen Ranch! Primal Kitchen Ranch is better than ever: Primal Kitchen added cage-free organic egg yolks to their best-selling recipe for a thicker, creamier Ranch. Dunk, dip, and dress your veggies with a Ranch made with avocado oil and without dairy, sugar, canola, soy, or artificial ingredients for a spiffed-up classic ranch dressing you and your family will love on everything from summer salads to a dipping sauce for veggies!
Chomp Jerky Sticks
A great addition to any lunchbox is a Chomp Jerky stick! Chomp Jerky sticks have no added sugar, wheat, dairy, eggs, peanuts, tree nuts, soy, fish, or shellfish. These jerky sticks are completely clean and will keep the whole family satisfied and on track with their healthy lifestyle.
Apple and Almond Butter
Another beloved snack with a twist! Switch out the peanut butter you would usually pair with apple slices, and try out almond butter! Almond butter provides more vitamins, minerals, and fiber than peanut butter. And it is just as delicious!
Lesser Evil Popcorn
Popcorn is a great source of fiber, and there isn't a better popcorn than Lesser Evil. With only 3 ingredients, Lesser Evil popcorn is a clean, reliable, and delicious snack for any time of the day!
Soley Gummies & Raw Nuts
Soley Gummies have created a real fruit bite with the fewest possible ingredients to replace sugar-filled, highly processed snacks. It needed to retain the nutritional benefits of whole fresh fruit, but without added sugar, additives, preservatives, or chemicals. Add in some raw nuts to the mix, and you've got the perfect snack!
Join The Aspen Clinic – We Have 9 Locations in Louisiana
The Aspen Clinic program is based on lifestyle changes, not temporary dieting. In summary, our program is designed to increase your metabolism and help you develop a new set of eating and activity habits. We will individualize your program according to your daily caloric needs to ensure that you are losing fat and avoiding the loss of lean muscle mass.
Visit any of our Aspen Clinic locations across Louisiana, Baton Rouge, Covington, Hammond, Harvey, Houma, Lafayette, Metairie, Prairieville, and Slidell, or schedule an appointment today to get started!
You can also visit our online store, we carry all the weight loss essentials including water bottles, vitamins / supplements, protein powders, and more!