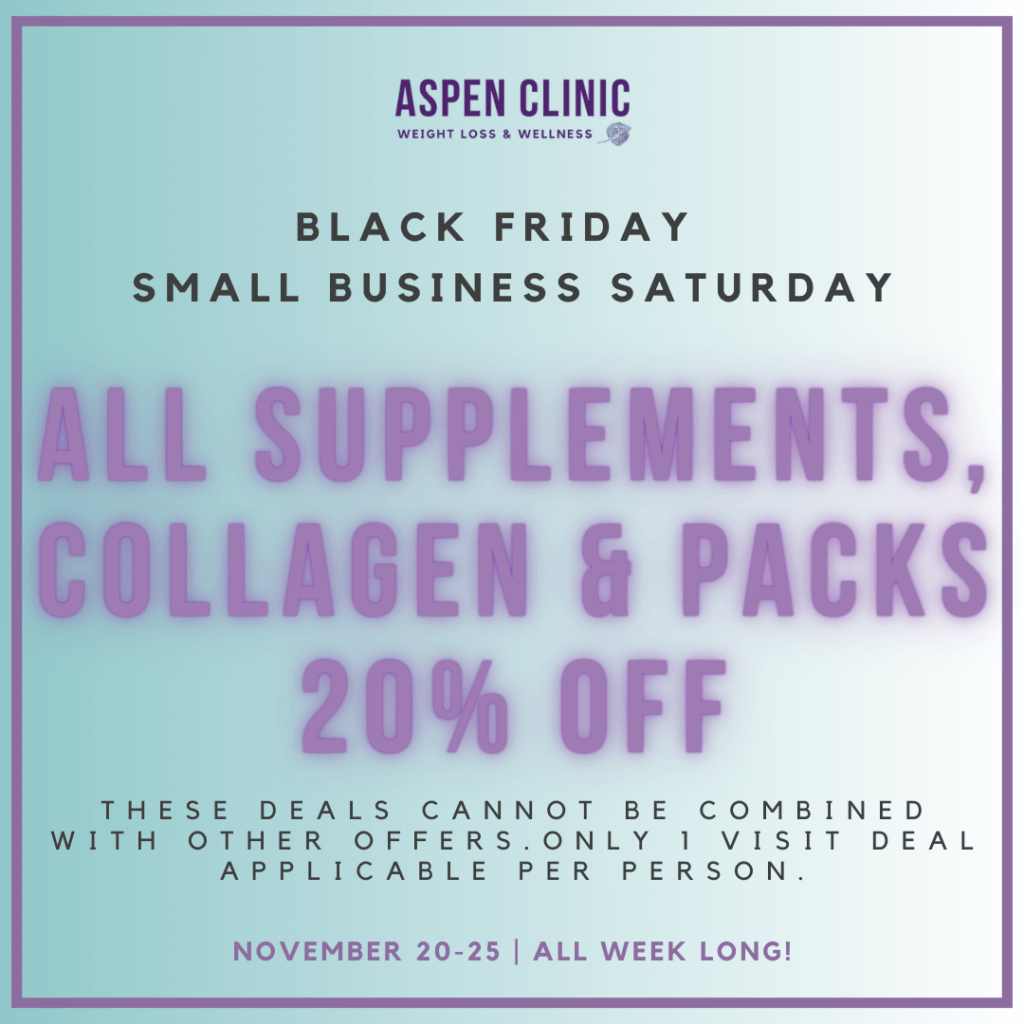 It's that time of year again—Black Friday and Small Business Saturday are just around the corner, and the Aspen Clinic is rolling out incredible deals that will have you jumping for joy! Our commitment to your well-being extends to your wallet, and we're thrilled to offer deals so good, we're keeping them around for the entire week.
Get ready for a week of unbeatable savings, exciting offers, and a chance to prioritize your health and wellness without breaking the bank!
Shop Exclusive Black Friday and Small Business Saturday Deals
Discover Black Friday and Small Business Saturday Deals at The Aspen Clinic
At the Aspen Clinic, we believe that your path to health and wellness should be accessible and affordable. That's why we've curated a selection of exclusive deals that cater to your unique needs.
Whether you're looking to kickstart your weight loss journey, boost your metabolism, or support your digestive health, our Black Friday and Small Business Saturday deals have something special for everyone.
The Aspen Clinic Week-long Deals
The Aspen Clinic is offering Black Friday and Small Business Saturday deals on a variety of products, including:
20% off all supplements, collagen, and packs
Buy 5, get 2 free injections
$5 off doctor visits
$10 off all visits with supplement or collagen purchase
$20 off all visits with pack or injection package purchase
Our exceptional deals are available all week long, starting from November 20th to November 25th. You have a limited time to take advantage of these exciting offers, so mark your calendars and make the most of this fantastic opportunity!
Take Advantage of Exclusive Deals from The Aspen Clinic
Ready to embark on an adventure to a healthier and happier you? Now is the perfect time! Join us at the Aspen Clinic for an entire week of exclusive deals that will set you on the path to well-being.
Whether you're a returning customer or a new face in our community, we invite you to discover the incredible savings that await you. Your health journey is important to us, and we're here to make it easier, more affordable, and filled with exciting possibilities.
Visit The Aspen Clinic and Seize Your Deals Today
Don't let this week of unbeatable savings pass you by. Visit the Aspen Clinic online or at one of our 9 locations in Louisiana and seize your Black Friday and Small Business Saturday deals today.
Your journey to well-being starts here, and we're excited to be a part of it. From our family to yours, we wish you a week filled with health, happiness, and fantastic savings!
Shop Exclusive Black Friday and Small Business Saturday Deals