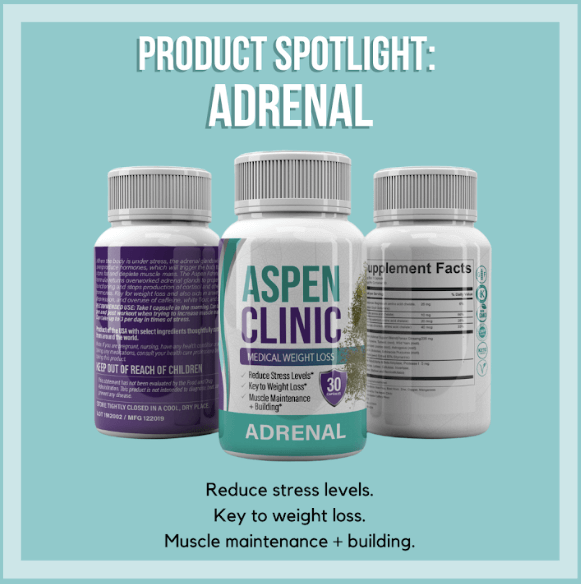 Adrenal: Your Weight Loss Support Companion
Are you struggling to shed stubborn pounds? Our August product of the month, Adrenal, presents a revolutionary solution to aid your weight loss journey while providing essential adrenal support. The Aspen Clinic's exclusive blend of powerful nutrients and herbs was designed to optimize adrenal function, especially during periods of peak emotional or physical stress, making it an invaluable tool in your weight loss arsenal.
Try Adrenal Today!
What's The Connection Between The Adrenal Glands and Weight Gain?
Located above your kidneys, the adrenal glands are responsible for metabolic, immune system, and stress response regulation. Adrenal overstimulation normally happens when the adrenals become fatigued by consistent mental or emotional stress. This type of adrenal strain often leads to stubborn hormone-induced weight gain in the belly area.
What Do Cortisol and Epinephrine Do To Your Adrenals?
Cortisol, when released by the adrenals in excess, can lead to muscle catabolism, which is a scientific way of saying that excessive cortisol breaks down muscle rather than fat. This makes progress towards a leaner physique even more challenging. In times of stress, your body also overproduces epinephrine. This type of prolonged adrenal fatigue can lead to issues like dehydration, compromised kidney health, increased wrinkles, and accelerated aging.
A Poor Diet's Effect On The Adrenal Glands
Our modern diets are saturated with caffeine, sugar, saturated fats, dairy, and processed foods that overwork the adrenal glands. Adrenal helps to ease that pressure, allowing your body to focus on muscle growth rather than breakdown and fat loss rather than gain.
Why and How Do I Use Adrenal?
Our Adrenal product steps in as a weight loss ally in instances where your body overproduces potentially fat-inducing cortisol hormones, safeguarding your hard-earned muscle gains. Adrenal also empowers your body to enable effective hormone synthesis, helping to prevent any undesirable consequences of epinephrine overproduction. We recommend taking 1 capsule in the morning, but no more than 3 times a day.
Try Adrenal Today!
Support Your Adrenal Health and Join The Aspen Clinic!
With time, proper dieting, and adequate exercise, Adrenal will actively work to decrease the muscle-depleting effects of cortisol and epinephrine overproduction, propelling you that much more quickly toward optimal fat-burning and muscle-building. Visit Aspen Clinic locations in Baton Rouge, Covington, Hammond, Harvey, Houma, Lafayette, Metairie, Prairieville, or Slidell today to learn more!