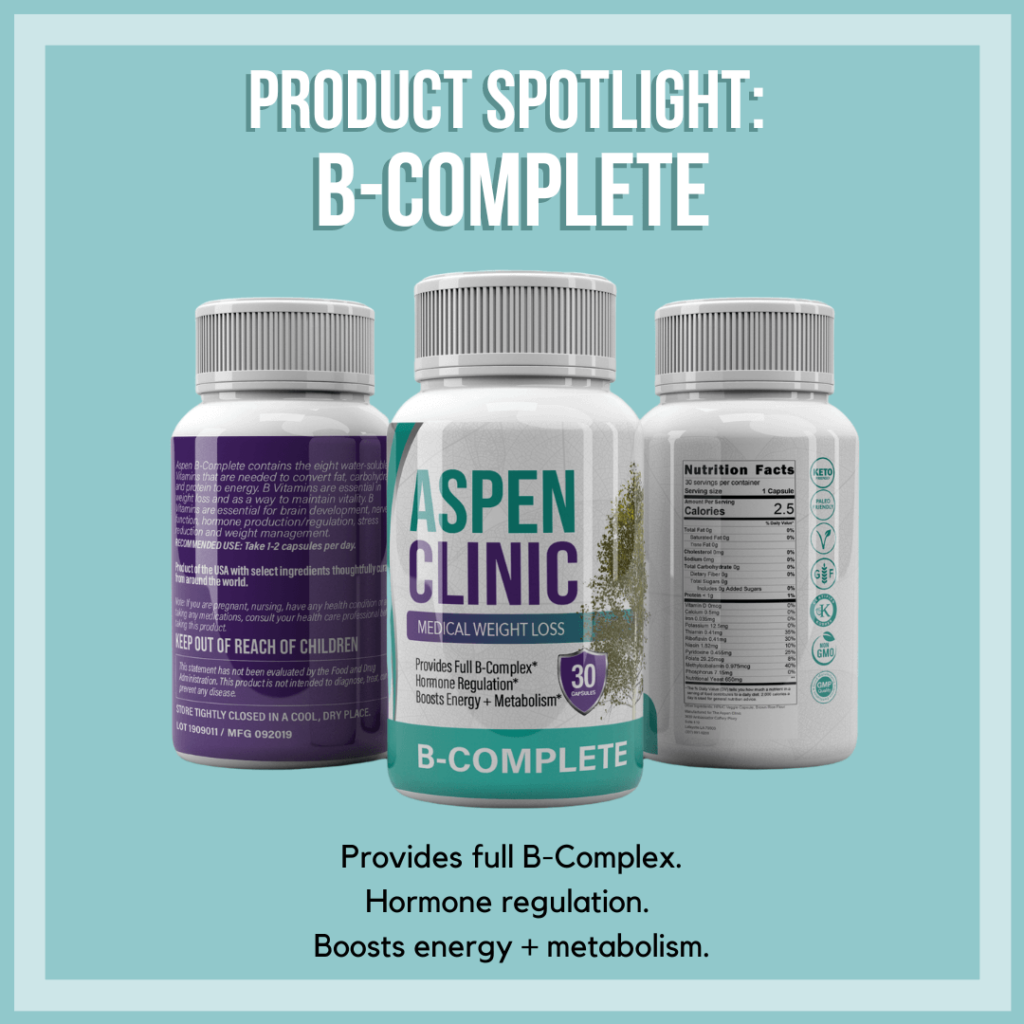 Are you looking for the perfect vitamin-B supplement to boost your immunity and metabolism, decrease stress, and manage your weight loss goals? Look no further than The Aspen Clinic's prized B-Complete formula, composed of essential vitamins that support weight loss, a higher metabolism, sustained energy levels, and better brain function:
B1 (Thiamine), supports nerve, muscle, and heart function
B2 (Riboflavin), boosts metabolism
B3 (Niacin), supports healthy hormone production
B5 (Pantothenic Acid), boosts fat burning and aids in digestion
B6 (Pyridoxine), a natural, mild detoxicant
B8 (Biotin), supports hair, skin, and nail growth
B9 (Folic Acid), boosts protein digestion
B12, great for red-blood cell production
Try B-Complete Today!
B-Complete Benefits
The B-Complete formula packs a powerful vitamin B punch. Composed of the eight water-soluble vitamins listed above, B-Complete incorporates each critical B vitamin to provide a range of health benefits, including weight loss, brain development, nerve function, hormone production and regulation, and stress reduction. And when it comes to providing energy enzymes, B-Complete supports your RNA, DNA, and red blood cell synthesis, too!
Further, being a selenium, iron, zinc, and yeast glucan-enriched supplement, Aspen Clinic's B-Complete formula goes the distance and beyond. These ingredients can do a ton to fortify your immune system, making this month's star product an excellent choice for you if supporting your body's natural defenses is a priority.
In addition, B-Complete supports protein creation and levels by pulling protein nutrients from essential amino acids, minerals, and dietary fiber, making it a natural source of daily energy. Incorporating B-Complete into your daily routine can help ensure that you are getting crucial nutrients that your brain and body need to remain healthy, energized, and at ease. Remember to pair the supplement with clean eating and exercise for optimal results!
Join The Aspen Clinic at Your Preferred Louisiana Location
At each of our Aspen Clinic locations–whether it's easiest to arrive at our Baton Rouge, Covington, Hammond, Harvey, Houma, Lafayette, Metairie, Prairieville, or Slidell, LA-based sites, we provide tools to adopt a new lifestyle, not just a temporary diet. With the support of nutritional experts who tailor a metabolism-boosting, healthy-eating-conducive-weight loss plan proven to help you lose weight and keep it off, you can finally find success in your weight-loss goals. Schedule a consultation with us today to begin your journey to a healthy body, mind, and spirit!