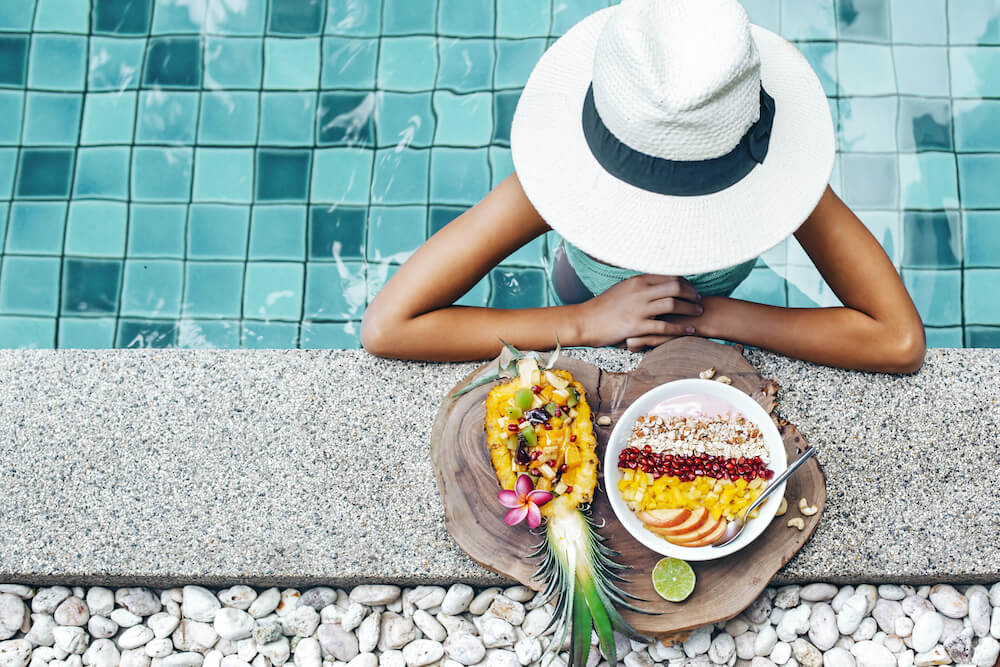 Taking some time to travel and reward yourself with a vacation is vital to maintaining a happy life! Don't stray away from traveling and taking the time you need to recharge just because of the fear of falling off track. Here are some tips to staying healthy while traveling from your friends at the Aspen Clinic of Louisiana! 
Pack Healthy Snack Options
The Aspen Clinic recommends healthy snacks like berries and unsalted nuts, Chomp jerky sticks, apple slices with almond butter, raw veggies with Tessemae ranch, Thunderbird bars, and Siete chips with Wholly Guacamole. Keeping these snacks with you can help cure hunger before giving into temptation!
A Morning Walk
Starting your day on vacation with a morning walk will help set yourself up for success! Try setting a goal of 8,000 steps a day. This will not only give you something to work toward, but will also help promote movement throughout the day. Increasing physical activity such as your step count has the power to increase your lifespan by reducing the risk of developing chronic illnesses such as dementia, and certain cancers. In some cases, it helps improve health conditions such as type 2 diabetes. Get outside early and take in the new sights around you!
Hydrate
The more water you drink, the more weight you will lose! Keeping a water bottle with you at all times makes you a lot more likely to reach your daily water requirement! According to Everyday Health, Drinking water is important during weight loss because it provides hydration without unwanted calories, which seem to pile up quickly while traveling. Drinking non-caloric fluids like water before or with a meal can help a dieter feel full sooner. Keep a water bottle on you at all times!
Limit Alcohol Consumption
Not only does alcohol carry a ton of empty calories, it also can lead to what is known as alcoholic fatty liver when excessive amounts are consumed. This condition can damage your liver, affecting the way your body metabolizes and stores carbohydrates and fats. Changes in the way your body stores energy from food can make it very difficult to lose weight. We need all systems running at peak performance in order for the body to stay healthy!
Enjoy Your Vacation!
Nothing happens overnight. Don't beat yourself up for relaxing or giving in to a few indulgences. Take some time to enjoy yourself and recharge!
Join The Aspen Clinic – We Have 9 Locations in Louisiana
If you are looking for more health and wellness tips, join us at the Aspen Clinic! The Aspen Clinic program is based on lifestyle changes, not temporary dieting. In summary, our program is designed to increase your metabolism and help you develop a new set of eating and activity habits. We will individualize your program according to your daily caloric needs to ensure that you are losing fat and avoiding the loss of lean muscle mass.
Visit any of our Aspen Clinic locations across Louisiana, Baton Rouge, Covington, Hammond, Harvey, Houma, Lafayette, Metairie, Prairieville, and Slidell, or schedule an appointment today to get started!
You can also visit our online store, we carry all the weight loss essentials including water bottles, vitamins / supplements, protein powders, and more!