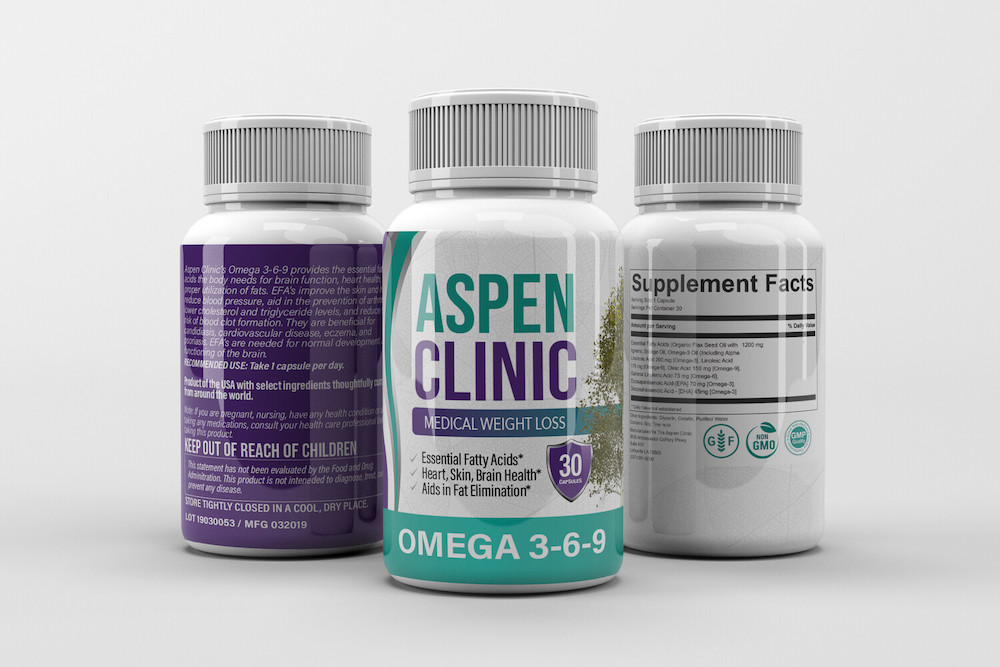 When we think about weight loss, we tend to only associate it with getting rid of fat from our bodies. However there are actually good fats known as Omega-3, Omega-6, and Omega-9 that are important for your health. These fats are known as Essential Fatty Acids and they are the basic building blocks of which fats and oils are composed. 
Although Essential Fatty Acids are necessary for your health, they actually cannot be made by the body and must be supplied through your diet. This is where The Aspen Clinic's Omega 3-6-9 supplement comes in. 
What Foods Provide Omega 3-6-9?
Omega-3 is typically found in fresh deepwater fish, fish oil, and certain cold pressed vegetable oils like canola, flaxseed, and walnut oil. 
Omega-6 is found in raw nuts, seeds, legumes, and unsaturated vegetable oils like borage, grape seed, primrose, sesame, and soybean oil. 
Omega-9 can be found in canola oil, safflower oil, avocados, olives, almonds, cashews, and macadamia nuts. 
If you don't find yourself consuming these foods in your regular diet, try our Omega 3-6-9 supplement!
Benefits of Essential Fatty Acids 
Essential Fatty Acids can be very beneficial towards many health issues such as candidiasis, cardiovascular disease, eczema, and psoriasis. Other ways that they can improve your health include:Â 
Improve skin and hair
Reduce blood pressure
Prevent arthritis 
Lower cholesterol/ triglyceride levels 
Reduce the risk of blood clots
Join The Aspen Clinic – We Have 9 Locations in Louisiana
The Aspen Clinic program is based on lifestyle changes, not temporary dieting. In summary, our program is designed to increase your metabolism and help you develop a new set of eating and activity habits. We will individualize your program according to your daily caloric needs to ensure that you are losing fat and avoiding the loss of lean muscle mass. 
Visit any of our Aspen Clinic locations across Louisiana, Baton Rouge, Covington, Hammond, Harvey, Houma, Lafayette, Metairie, Prairieville, and Slidell, or schedule an appointment today to get started!