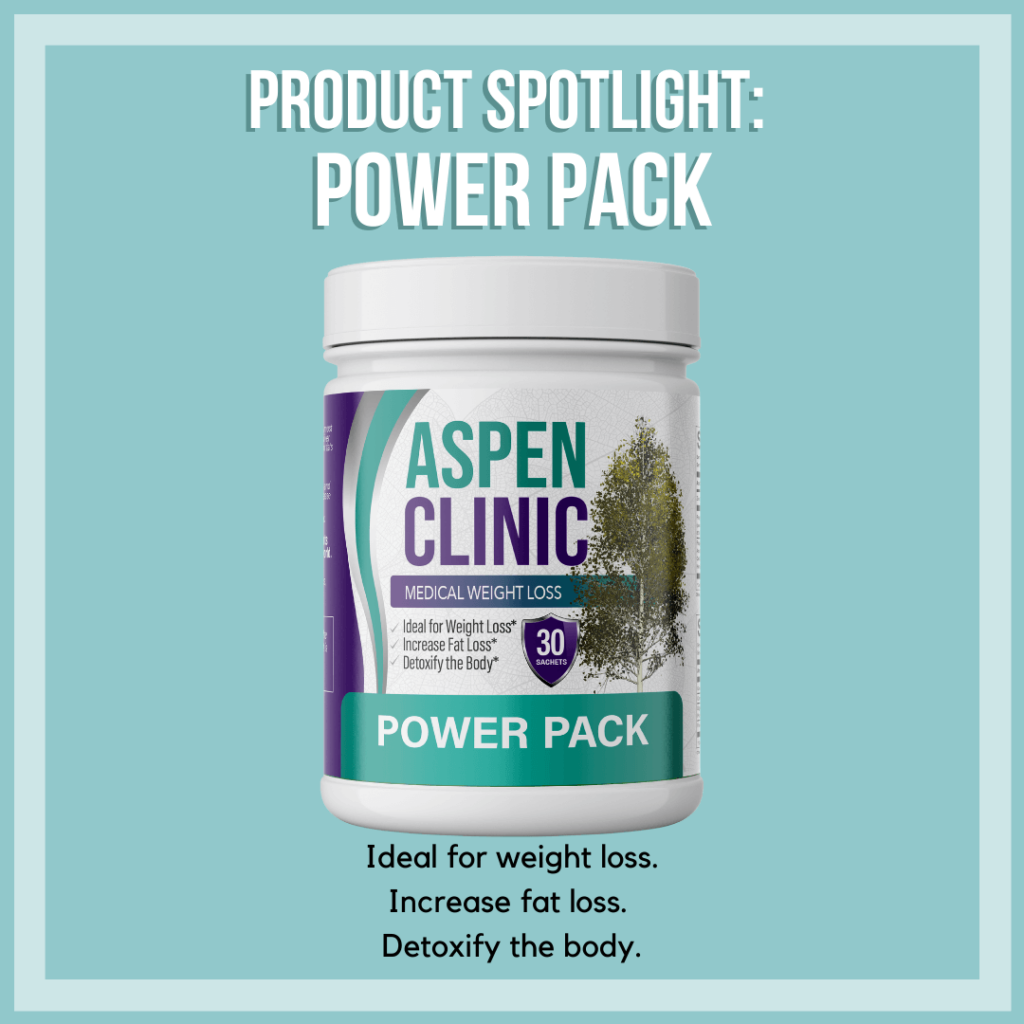 If you are looking to add supplements to your weight loss regimen to detoxify the body, prevent fat absorption, alleviate water retention, and reduce stress levels, our Power Pack is perfect for you. We know how important your health and wellness journey is which is why we have put together our four best selling products into daily packs to make them easier to take each day. 
Learn more about our Power Pack of supplements to help with weight loss, right here at the Aspen Clinic. 
Benefits of The Power Pack
The Power Pack contains the following supplements to help you achieve your weight loss goals:
Liver Kidney– Helps to cleanse toxins that are built up in the liver and kidneys to eliminate fatigue, headaches, insomnia, depression, poor digestions, and more. 
Lipo Plus– Helps to crush food cravings, reduce fat storage, suppress appetite, and improves the ability to maintain a consistent nutritional intake. Lipo Plus also contains ingredients like Green Coffee Bean Extract– to help slow the absorption of fat.
Diuretic Balance– Prevents the storage of excess water in the body by allowing the body to naturally cycle water for increased weight loss and circulatory improvement. Diuretic Balance can also aid with PMS symptoms, arthritis, and even hair loss. 
Adrenal Supplement– This exclusive blend of nutrients and herbs supports adrenal function, especially in times of stress. The Adrenal Supplement supports the adrenal glands by helping take added stress off to stop the excretion of cortisol so the body can start building muscle.
Join The Aspen Clinic – We Have 9 Locations in Louisiana
The Aspen Clinic program is based on lifestyle changes, not temporary dieting. In summary, our program is designed to increase your metabolism and help you develop a new set of eating and activity habits. We will individualize your program according to your daily caloric needs to ensure that you are losing fat and avoiding the loss of lean muscle mass. 
Visit any of our Aspen Clinic locations across Louisiana, Baton Rouge, Covington, Hammond, Harvey, Houma, Lafayette, Metairie, Prairieville, and Slidell, or schedule an appointment today to get started!